Post-medium Photography with James Coupe
24 March 6:30 pm 2023
UPCOMING EVENT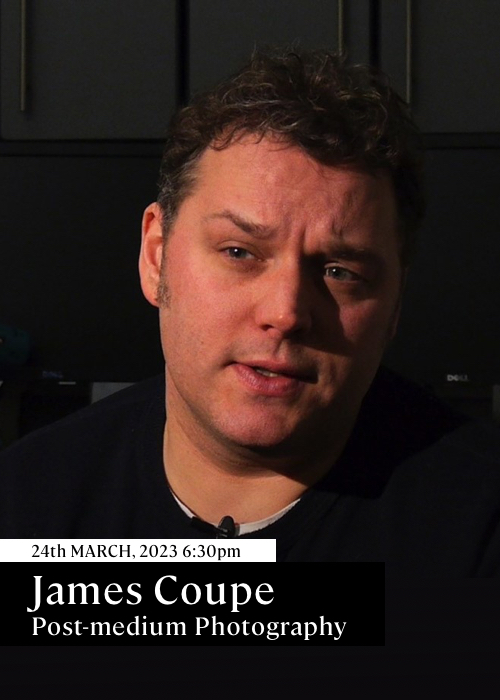 A Special Event at Newlands House Gallery
---
Post-medium Photography with James Coupe
Friday 24th March, 2023
Drinks from 6pm
Talk Starts 6:30pm
Tickets: £22
Free for Newlands House Gallery Art Pass Holders, limited availability. Register at enquiries@newlandshouse.gallery
(get your NHG Art Pass here)
Location: Newlands House Gallery, Pound Street, GU28 0DX

---
Join us for our first talk of 2023!
We are proud to present: 'Post-medium Photography' with James Coupe at Newlands House Gallery.
James Coupe is Head of Photography at the Royal College of Art. He is an artist whose work focuses on themes of visibility, labour and surveillance capitalism, explored through installation, video, sculpture, public art and Internet-based projects. In his practice he frequently engages with emerging technologies, including artificial intelligence, machine learning, and synthetic media. Recent  exhibition venues include the International Center of Photography, Kunstraum Kreuzberg Berlin, FACT Liverpool, Ars Electronica, Parsons/The New School, Henry Art Gallery, ZKM, and the Toronto International Film Festival. His work has received awards from, amongst others, Creative Capital, Ars Electronica, HeK Basel and the Surveillance Studies Network.
---
Friday 24th March, 2023
Drinks from 6pm
Talk Starts 6:30pm

Tickets: £22
Free for Newlands House Gallery Art Pass Holders, limited availability. Register at enquiries@newlandshouse.gallery
(get your NHG Art Pass here)
Location: Newlands House Gallery, Pound Street, GU28 0DX

---
For more information contact: enquiries@newlandshouse.gallery
LOCATION
Newlands House Gallery, Pound Street, Petworth GU28 0DX